> Home > Product Information > Features > Production Board

Full Function Production Board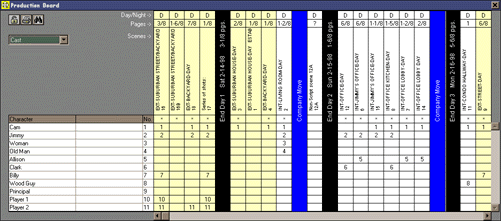 This visual representation of the Production Board is designed to be easy, quick, and powerful.
Arranging the strips is a matter of clicking on them dragging them to the appropriate location and letting them drop into place. You can move whole days or a single strip using this drag and drop method.
The day break separators contain all of the information about the location, call times, and shoot time, advanced planning, and assigning shooting dates.
If you want to add a new breakdown element simply click on the production board where you want to add the element and a pop-up menu will assist you in adding the element.
Multiple views are also available for displaying only a particular breakdown category or all breakdown categories.
Strips are color-coded for Day/ Night and Interior/Exterior and will print in color if you have a color printer.
View the script and update scene descriptions directly from strips with a click of the mouse.
Special notation to indicate scenes already shot.
Horizontal and Vertical script display
Automatic Days feature automatically calculates required shooting days
Strip sorting based on criteria in the scene
---
Home | Software | Services | News | Links | Contact Us
Copyright 1996-2004 Mindstar Productions, All Rights Reserved.